New Products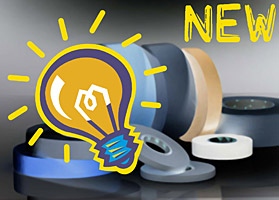 The policy of continuous widening of the offer can provide the costumer with new solutions and opportunities.
> PDF Version

Products Details
PRO GRIP
Features
Product Type: protective tape.
Adhesive: water-based acrylic
Substrate: PP
Functions: anti-slip protection
Thickness: 240 my
Application
Anti-slip soil protection.
PATCH
Features
Product Type: PES tape
Adhesive: solvent acrylic
Substrate: PES film
Functions: Fixing
Thickness: 300 my
Application
Heavy duty patcher for tarpaulin and ground sheets.
BOOK BINDING
Features
Product Type: Paper Tape
Adhesive: Water based acrylic
Substrate: Embossed paper
Functions: Binding
Thickness: 0.20mm
Application
Book binding, spine reinforcing. Available pressure/heath-sensitive.
ANTI-SKID TAPE
Features
Product Type: coarse tape
Adhesive: Solvent Acrylic
Substrate: paper + corundum
Functions: anti-skid
Thickness: 0.30mm
Application
Long lasting tape  for slippery soil.  Available in different colours, also striped.
T215
Features
Product Type: Cloth Tapes
Adhesive: Acrylic
Substrate: Tear Resistant Polyamide Cloth
Functions: Reinforcing
Thickness: 0.28mm
Application
Splicing and reinforcing.
PE HIGH TACK
Features
Product Type: PE tape
Adhesive: Acrylic
Substrate: 100 mu PE
Functions: Splicing
Thickness: 140 mu
Application
Splicing PE films.